About Rosalie Weigle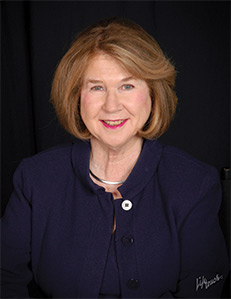 "She Cares...and It Shows"
Selling residential real estate in Marin County since 1977, Rosalie Weigle has an extraordinary knowledge of the Marin marketplace combined with a passion for taking care of people. Known for her integrity, Rosalie understands the needs of her clients. Careful, precise, articulate, and a critical thinker, she is well respected in the Marin County real estate field. She has also traveled the world and understands real estate globally as well as locally.
A native of England, Rosalie began her real estate career, first with Scott McCall and then with former Frank Howard Allen Realtors for 33 years, where she was a constant top producer and Hall of Fame member. In 2014, Rosalie joined the company of Decker Bullock Sotheby's International Realty in Central Marin County at Greenbrae. With her considerable Marin County real estate instincts and the outstanding Sotheby brand name marketing in the local and international marketplace, Rosalie is a dedicated Realtor.
Rosalie helps you prepare your home to maximize its value, and as a Senior's Real Estate Specialist (SRES), she is committed to making each transaction as smooth as possible for her clients. She is also knowledgeable regarding the options of local retirement facilities.
Rosalie has a world of experience in caring about people and helping them meet their real estate needs. She is all this and more:
Real Estate Broker
Registered Nurse and former Head Nurse.
SRES certified: Senior's Real Estate Specialist
Former Pan American World Airways Flight Attendant and Purser
Member of Marin Association of Realtors
Member of California Association of Realtors
Member of National Association of Realtors
Member of California Board of Registered Nursing, Registered Nurse, License #241828
Member of TAN (Top Agent Network)
Member Board of Directors – Peacock Gap Homeowner's Associaton
Member Board of Directors – Knollwood Townhouses, Inc., Homeowner's Association
Member of the English Speaking Union of the United States, a non-profit, non-political, educational organization whose mission is to promote scholarship and the advancement of knowledge through the effective use of English in an expanding global community.
Member of World Wings International and former President of Marin Chapter, an organization of former "Pan American World Airways" Flight Attendants whose 2,000 members worldwide are dedicated to supporting recognized charitable organizations around the globe. International charity is CARE, local charity is Senior Access.
Former Member Board of Directors of Marin Senior Day Services, a non-profit Adult Day Care Center in San Rafael, now Senior Access.
Commitment, honesty and integrity aren't just words to Rosalie, they're ideas she puts into practice every day. She puts your needs first, not hers. Choose her to represent you in a real estate transaction, and she makes herself available to you when you need her…and not just during office hours, but any time of the day or night, no matter where she is or what she's doing, you come first.
Experience only comes with time, and as your agent, she can put that hard-won knowledge of the Marin marketplace to your benefit. Her insights will save you both time and money. And over the years she's not only earned the trust of her clients, she's earned the respect of her peers as one of her company's top sales people. Rosalie knows what it takes to get the job done because she's done it.
Rosalie Weigle loves real estate. She loves the challenge and rewards of finding just the right property, she loves the satisfaction of negotiating a good deal all around, and most of all, she loves helping people. "She cares...and it shows!"